TRIP TO MT. WHITNEY
Diary of John Herr - 1898
July 2
Party of five, consisting of John, Clarence, Frank, and Archie Herr, and Scott Wellman, left Pasadena for a two months trip to Mt. Whitney, via Elizabeth Lake, Mojave and Owens Lake. With 4 horse team and saddle pony.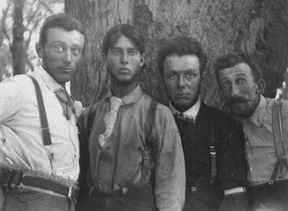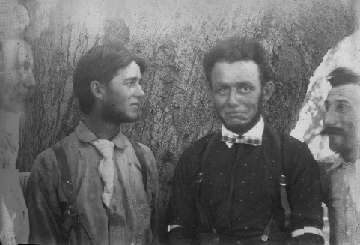 Ate dinner at San Fernando, 22 miles from Pasadena, and after two hours rest made good time up the grade and through the Newhall Pass. Boys had fun with dirty faced boy. Bought hay at Newhall at the rate of $22 per ton.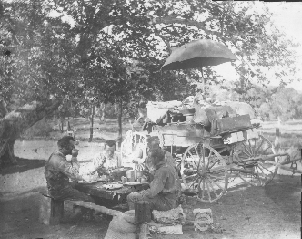 Camped for the night at Raggio Ranch in San Francisquito Canyon, 44 miles from Pasadena. Population 2 Dagos, 1 Chinaman, 1 White, 3 boys, mixed. All played "Hide and Seek" till bedtime.
Sport's (the dog) feet worn out the first day.
July 3
At 7 AM on the 20 mile grade to Elizabeth Lake. Make Lake by noon and eat dinner at Heffner's, whose wife is a Spanish Mexican woman, short heavy set with round face and high cheek bones. But denied being part Indian. Good joke on me for being inquisitive about her nationality. She remarking that some other people have lots of cheek too.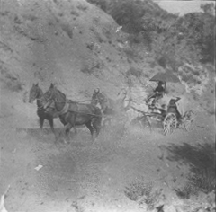 Elevation 3000. Good fruit section, raise elegant pears.
At 3 PM came in sight of Altelope Valley. About 20 miles wide, very sandy and almost void of vegetation, except sage brush and desert Yucca. (Yaccie)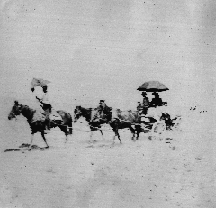 Great many claims have been taken up, but now deserted. Passed one large cattle ranch about middle of the Valley. Cant see how it is possible for cattle to subsist.
Camped for the night in the old adobe ruins at Willow Springs. Get today's news of Sampson's battle with Spanish from two travelers, man and woman, who pass camp at bedtime.
July 4
6:40 AM. Came near having runaway. Line got fast and team made big circle. Came near running into an old cellar.
Drive was delightful over a hard level road into Mojave at 9 AM. Had horses all shod and were on the road again at 1 PM. Archie having drawn a map of our route to Lone Pine from the directions of some old stage drivers at the saloon who spotted us as cattle men.
Just out of Mojave we encountered a small Cyclone and slight showers which caused cloud of steam to ascend from the hot sand. Here and a little farther on we had the rare opportunity of seeing a mirage. One in the form of a large mountain shaped like a pear standing on its small end. And the other a beautiful lake very distant, bordered by tall trees like Eucalyptus.
At 4 PM we came to mouth of Red Rock Canyon in which we found travel very difficult through the deep sand. Here the water conatins arsenic and will kill horses if they are allowed to drink while warm.
July 5
Noon. Have had very tedious drive over 19 miles of desert through fine sand. Suddenly drive into what is called Coyote Hole. Had dinner and rested. Had sociable chat with party of miners from Pasadena and some young ladies from Los Angeles who were spending two weeks at their uncle's. One had a mandolin, and as we had an expert mandolinist in our party, we were pleasantly entertained for a time.
Seven miles from here we had supper at Indian Wells, a stage staion kept by men only, and as we had 21 miles of hot rocky desert before us, we started at dark and drove until 3 AM. When we arrived at Little Lake and camped for the remainder of the night without water for our horses, as we had been warned against using it. And the man living there refused us the privilege of water from a good spring, and wanted $90 per ton for hay.
July 6
We started on next morning after a little stir of excitement, as an animal was seen which was pronounced by the whole party to be a bear, and three of the boys made haste to give chase. But our anticipated game proved to be a lost and starved dog with worn out feet and weak from starvation which made him travel with a wably gait like a bear. But all thought they realized how one feels on seeing a wild bear.
Our route lay along the foothills of the Sierra Nevadas for miles with awe inspiring scenery on either side. The various formations caused by volcanic eruptions gave us an entertaining study as we journeyed on.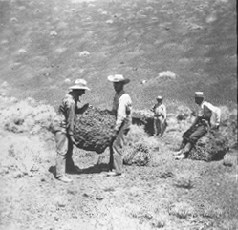 The dead sheep, cattle, and horses strewn along the road proved to us that it is not always pleasant to be here without water or a spear of grass for miles.
Camped for noon at a deserted place called Sheep Ranch, and at about 3 PM were at Haweah [Haiwee] Meadows. After a rest here we started on another hard drive of about 14 miles of deep sand and arrived at Alanche [Olancha] at 11 PM, where we were refused hay. Landlord claiming (after our dog had whipped two of his) that he had only a little for his own use.
Boys helped themselves to a bed tick full and we drove on. Drove until daylight and camped at Cottonwood Creek. Hay 50 cents a feed or $15 per ton. 1/2 mile from Owens Lake which is 30 miles long and 10 to 20 wide.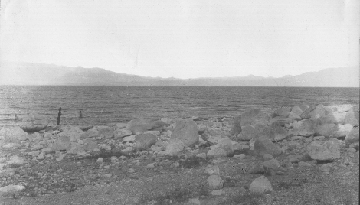 As we drove on in the afternoon and neared the shore of the lake, the boys rejoiced over the opportunity of taking a bath, but were disappointed. The water is as strong as ammonia and when they came out they lookes as if they had been white-washed. The shore was lined with flies two or three feel back from the edge of the water, and two or three inches deep. They were a little longer than the common house fly.
Soda works here ship 150 tons of soda to the refinery at San Francisco per month. The water is bottled, labeled, and sold as "Castillian Water", and recommended to cure all ailments of the human body.
At 10 PM arrived at Lone Pine and had wagon pole mended. Had dinner at John Dodge's, where we left our wagon and packed our horses. Got started by four o'clock. Man named Weeks helped us pack and gave us full directions of short cut to Mt. Whitney.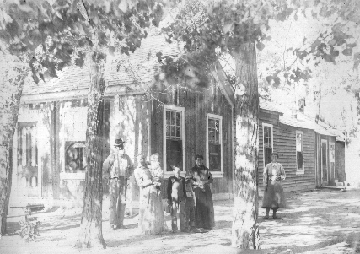 At 6 PM were at the top of a range of flint hills and were delayed half an hour finding gate in wire fence. Camped at a ranch here for the night. Were asked to pay 20 cents per head for pasture for horses. But we didn't.
July 8
Repacked and started at 8 AM, and at 9:30 we stopped at _______ Creek to drink and fill canteens. Ike layed down and couldn't get up. Had to cut halter.
Trail leads on in S.W. direction until we are nearly opposite Owens Lake. Trail is very steep and dusty.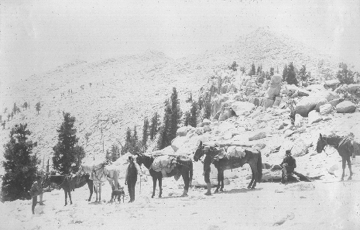 Ike gets caught in narrow trail and has to be repacked.
Two o'clock and we have had no dinner. Have found no water or pasture. But after travelling several miles through tall pine timber, we camp on Little Cottonwood Creek at 4 oc. But have to take horses one mile farther up the canyon to pasture.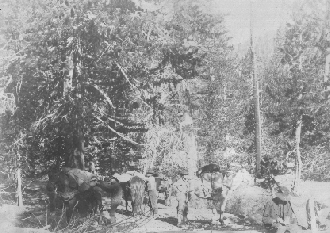 July 9
Frank, Archie, and I get up at daylight and go out in search of game. The mountains are very rough and of rocky formation, with hardly any soil except in the canyons.
The dog started something the night before which we thought was a mountain sheep, but we saw no further signs of game. Archie was so late coming to camp that we grew uneasy about him, and fired a signal gun after breakfast. But he finally came in safe enough, but with the news that the horses had all broken loose, and one wasn't to be found. Frank took the pony and a days rations, and recovered the lost horse in a couple of hours. And spoiled our relish for water by saying there was a dead horse in the creek just above camp.
July 11
The boys are packing for an early start, and Ikie is complaining of his load. 9 o'c. Round Valley is just below us and the large pine trees look like small bushes. We pass down by a zigzag trail to where flows Cottonwood Creek, a beautiful stream filled with trout; the Golden Trout only found in the vicinity of Mt. Whitney.
We follow up Cottonwood Creek for some miles, and at noon make camp at the foot of an abrupt wall of rock a hundred feet high, which appears to be the end of the canyon, over which tripples a small stream of water. Camp is made under some large pine trees surrounded by patches of sod, through which flows the creek filled with beautiful striped trout. In the distance patches of snow lay against the rocky sides of the highest peaks. Old Mt. Whitney, or Sheep Mountain, as it is now called, stands out boldly above us like a giant's helmet.
After dinner and a rest, we take 31 fine Golden trout. Archie scales the cliff and reports two beautiful lakes above, each 1/2 to 1 mile in length and 1/4 wide.
July 12
Today we had a drenching rain and hailstorm, and our little tent almost failed to keep out the rain.
Clarence and I had gone to the lakes above fishing, and had some sport at the expense of two ladies on a rock across the lake, one an artist. They did not realize the fact that common conversation can be heard for half a mile in this region; or else they didn't excpect an audience.
We all got a good soaking before we got to our camp. Then we, together with the two ladies, their two men and a boy, who of course had to be invited in, all piled into our little tent (8x10) on top of Archie, who was in bed sick, and there wasn't much room left.
After the shower was over we built a roaring fire and dried ourselves. And just at evening had some excitement when a Mountain Lyon appeared on the cliff above and all our guns were packed away.
July 13
Dry our bedding 'till noon, then pack to Long Valley, and camp for the night in the large pine forest just at the foot of the divide, over which is the Cut-off-route to Whitney Meadows.
July 14
Packed and start to climb the grade at 7:30 after a hearty breakfast of venison, biscuits (and what the boys call B.F.) and a few kodak views of the beautiful camp we were about to leave. On the start we follow up the stream through heavy grass and foliage, and the horses have to be watched closely that they don't get any of the "Wild Tobacco" which is plentiful here and is death to all stock. Clarence shoots a fine mountain grouse.
8:55 AM. Almost to timberline and have travelled without a trail for an hour. It could hardly be called a trail anyway, for it is only a dim path. Scott and I stay with the horses while the rest go in different directions to find the way.
We finally cross the range at the summit of Cirque Peak, having climbed about 700 ft. higher than necessary if we hadn't missed the divide. Travelled down a narrow cañon with almost no trail at all until 1 o'c when we reached Whitney Meadow.
Camp for the night in the most beautiful spot of all, just where the forest and the grassy meadow meet. And about 30 ft. from the edge of the pines where we are camped flows a spring of 20 inches of ice cold water. (Which was nice to clean 70 or 80 trout in before daylight.)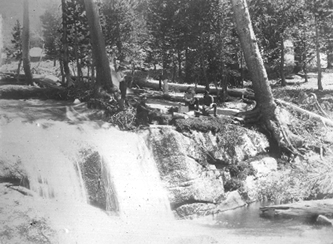 July 15
At 9:15 AM we rest at [Siberian?] Pass at the head of a long sloping sand flat. An hour later there is much excitement over a bear, which proves to be a large dog. After sliding and falling for two miles down what is used for a trail, we camp at noon by the side of a fall in Rock Creek. Which is quite a large stream, but contains no fish on account of its two thousand foot fall into the Kern River below. The beauty of this cañon is beyond description.
After dinner and a few kodak views, we proceed to climb again the two thousand feet we have just descended. We cross Goyot's Pass, which is 11,600 ft. and above timberline. To the left we have Guyot's Peak, 900 ft. higher without a bush on its rocky sides.
At 6:00 PM we are camped on Crabtree Meadows, which is covered with herds of sheep, and the grass for our horses is about 1/2 inch high.
July 16
Leave camp in charge of Sport, the dog, and start at daylight for the summit of Mt. Whitney. Ride the horses about __ miles to base of mountain and picket them by a small lake. Then, having been misdirected, we attempted the ascent from the north side, and failed of course as it is an impossibility. And though by this mistake we thought we had lost a day, we were well repaid in the end, for we saw what was as much to us perhaps as Mt. Whitney itself.
The old Mt. Whitney Glacier, which has been travelling down the north side of Mt. Whitney for ages, and now lies at her base, drops large slabs of ice from time to time into the lake just below it. And looking above, one can follow the trail of this once massive body of ice for half a mile, where the solid granite is ground and polished under its weight until it glitters in the sunlight.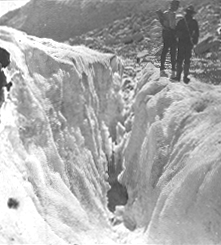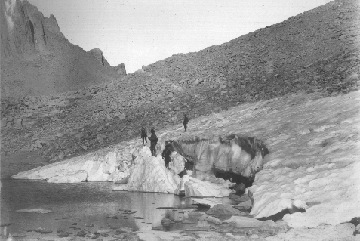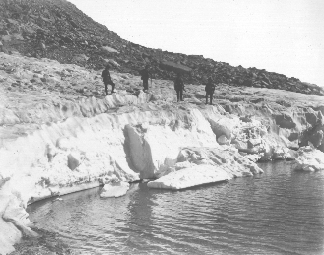 This being new to us all, we lingered for a couple of hours, and then returned to camp, tired and weary. They boys shot several chipmunks about camp, and an animal very much resembling the Southern California badger.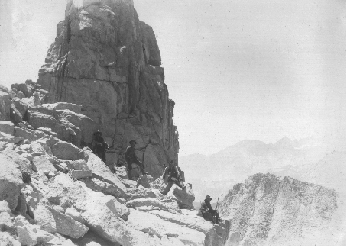 July 17 - Sunday
At 8:30 AM we leave camp once more for the summit. Stake horses as before and ascend from the south side. Clarence and Archie catch some fine specimens. (Butterflies)
From the base of Mt. Whitney proper it is one steady climb to the summit, mostly over loose rock, but sometimes between high ledges that seem to have no outlet, and always at an angle of more than 45 degrees. At a lower elevation the climb would be difficult, but it is doubly so here at 14,000 and 15,000 ft. where a climb of twenty steps requires all ones breath. So we made many stops on the way, which is really only a couple of miles, but seems to be ten at least. After a rest the boys would say, "Let us ass-end-upwards!"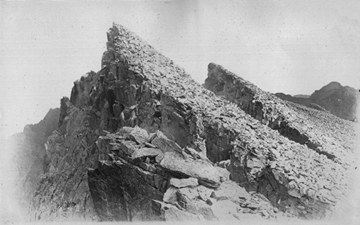 All along the way, even to the very summit, grew bright colored wildflowers - white, red and blue - sometimes within a few feet of snow and ice. And without any soil at all; nothing but rock and pulverized granite.
At 3 PM we reach the top, and there is no question but that it was the grandest view that any of us had ever beheld. There are few like it in the world.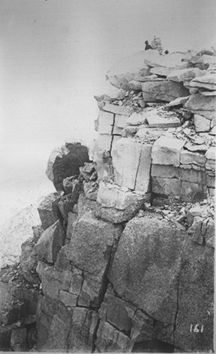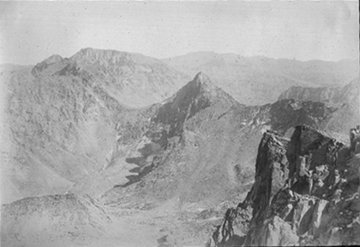 Over sixty lakes are visible from there, and twenty mountain peaks that are over 12,000 ft. elevation. Lone Pine lies below, 12 miles air line. Pistol shots re-echo twelve or fifteen times. A stone thrown straight east from the summit will drop 1/2 mile before striking.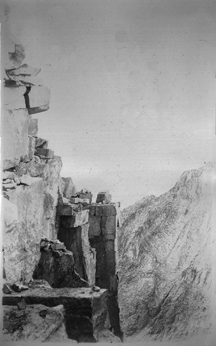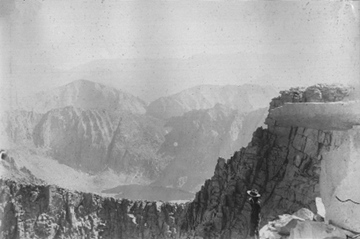 The Sierra Club has left a register there encased in a copper cylinder, in which we registered names, ages, date, and condition of weather.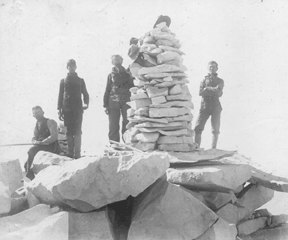 At 5 o'clock we commenced the descent. I, having started on ahead, took the wrong direction and lost my way, causing some delay and anxiety to the boys.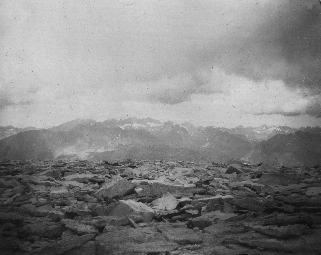 One peculiar thing we noticed was that two of us a half mile apart on the south slope, the one above could hear every step on the rocks, but the one below could not hear a pistol shot.
Arrived at camp at 8:00 PM, all very much worn out, Frank and Archie suffering with severe headaches from the altitude.
July 18
Slept late. Packed up at 3:00 PM and made Rock Creek falls again by night.
July 19
Packed to our favorite camp on Whitney Meadow. In the afternoon Clarence, Scott, and Archie had a fishing match, and in three hours they caught as follows: Clarence - 36, Archie - 35, Scott - 8, making 79 fish to clean, and the water was icy. All were the beautiful red, white and gold striped Golden Trout.
July 20
Drew lots to see who should go to Lone Pine for provisions for a weeks trip to Kern River. But finally gave up the idea on account of bad condition of the horses, and all started for Lone Pine. Found old camp fire still burning in Long Valley but had done no damage.
Camped on Big Cottonwood and caught 67 trout before supper.
July 21
Left camp early and reached Lone Pine by night.
July 22
Left Lone Pine with three bales of hay at $1.00 each, and 100 lb. corn at $2.00. Clarence bought some Indian baskets.
Reach Owens Lake and boys fill two jugs with water from the lake.
Teddy is played out so we put pony in his place. Five miles farther and Speedy is played out. Put Teddy in her place and go on. Conclude that the horses are unable to go any farther and with a good prospect of being left with our load on the desert, we drove to the mouth of Cottonwood Creek to camp for a few days to rest the team.
Camped in the bottom of the canyon and had our wagon and beds on the bluff. (Upstairs)
July 23
Have wash day and catch a few nice trout. Larger, but not so plentiful as above.
Boys make a trip after dark to a ranch five miles away for hay. As there was none cut, they had to cut some green alfalfa with their pocket knives, and didn't get back to camp till one o'clock. Scott rode in on a bed tick full, packed on top of Ikie.
July 24
Make 8 mile drive in the afternoon and camp near Olanche [Olancha]. Get some good hay from a neighboring farmer. Two bed ticks full. Hay was cut, but had to be pulled from stack with a hay hook.
July 25
Noon finds us at Haweah [Haiwee] Meadows, and after a two hourse drive, camp for the night at Sheep Ranch, amid the dead sheep and cattle.
July 26
Drive to Little Lake. Stop on the way and visit extinct volcano which lies 1 1/2 miles off the road. At night the grouchy man at Little Lake is, by a well planned maneuver, induced to part with some of his hay and grain.
Start at 12 o'clock that night and reach Indian Wells by noon, July 27. Speedy plays out and is left at Coyote Hole.
July 28
Red Rock Canyon. Clarence and Frank visit Scenery Canyon and the mines.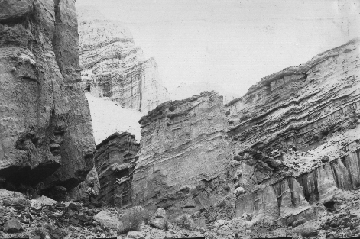 July 29
Killed Ikie and arrived at Mojave at 6 o'clock. Had to pile rocks on our beds to keep them from blowing away. And we lost one pillow.
July 30
Drove to Oak Creek Cañon (18 miles) and camped just inside Old Piff's domain.
July 31
Encountered Old Piff and moved a couple of miles up the cañon. That evening we met two boys who invited us to move down and camp on the ranch, the corner of which just crossed the cañon.
Aug. 1 to 7
Camp in Oak Creek Cañon. Frank and Scott killed four deer. I saw one but had only a shot gun, and didn't shoot.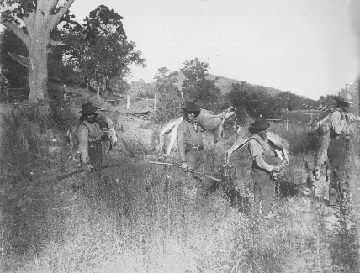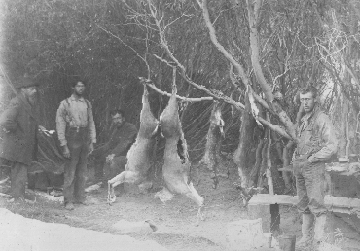 Old Piff was very generous with his hay for the first few days, but soon began to haul it away.
Aug. 8
Packed up at noon and drove to Willow Springs. Made pictures of old adobe ruins, artesian wells and old grave.
Aug. 9
Dinner at Elizabeth Lake. Got eggs and hay, and camped in San Fransisquito Cañon. Archie killed two big rattlesnakes and skinned them.
Aug. 10
Stop at San Fernando for beer, and at Monte Vista for a shave. Arrived home at 8:30.
---
WWW page created March 1998. Page updated by William J. Watson, <wjw AT alumni DOT rice DOT edu>, September 7, 2013, updated email address, brought HTML up-to-date.