TRIP TO MT. WHITNEY, part 1 - Pasadena to Lone Pine
July 2
Party of five, consisting of John, Clarence, Frank, and Archie Herr, and Scott Wellman, left Pasadena for a two months trip to Mt. Whitney, via Elizabeth Lake, Mojave and Owens Lake. With 4 horse team and saddle pony.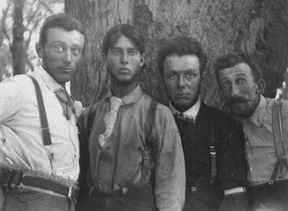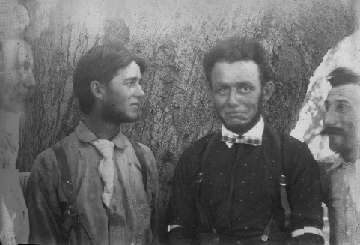 Ate dinner at San Fernando, 22 miles from Pasadena, and after two hours rest made good time up the grade and through the Newhall Pass. Boys had fun with dirty faced boy. Bought hay at Newhall at the rate of $22 per ton.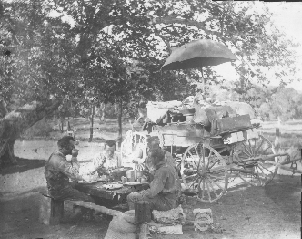 Camped for the night at Raggio Ranch in San Francisquito Canyon, 44 miles from Pasadena. Population 2 Dagos, 1 Chinaman, 1 White, 3 boys, mixed. All played "Hide and Seek" till bedtime.
Sport's (the dog) feet worn out the first day.
July 3
At 7 AM on the 20 mile grade to Elizabeth Lake. Make Lake by noon and eat dinner at Heffner's, whose wife is a Spanish Mexican woman, short heavy set with round face and high cheek bones. But denied being part Indian. Good joke on me for being inquisitive about her nationality. She remarking that some other people have lots of cheek too.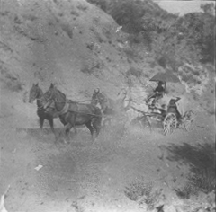 Elevation 3000. Good fruit section, raise elegant pears.
At 3 PM came in sight of Altelope Valley. About 20 miles wide, very sandy and almost void of vegetation, except sage brush and desert Yucca. (Yaccie)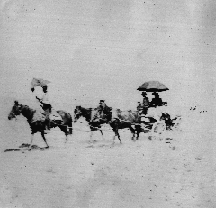 Great many claims have been taken up, but now deserted. Passed one large cattle ranch about middle of the Valley. Cant see how it is possible for cattle to subsist.
Camped for the night in the old adobe ruins at Willow Springs. Get today's news of Sampson's battle with Spanish from two travelers, man and woman, who pass camp at bedtime.
July 4
6:40 AM. Came near having runaway. Line got fast and team made big circle. Came near running into an old cellar.
Drive was delightful over a hard level road into Mojave at 9 AM. Had horses all shod and were on the road again at 1 PM. Archie having drawn a map of our route to Lone Pine from the directions of some old stage drivers at the saloon who spotted us as cattle men.
Just out of Mojave we encountered a small Cyclone and slight showers which caused cloud of steam to ascend from the hot sand. Here and a little farther on we had the rare opportunity of seeing a mirage. One in the form of a large mountain shaped like a pear standing on its small end. And the other a beautiful lake very distant, bordered by tall trees like Eucalyptus.
At 4 PM we came to mouth of Red Rock Canyon in which we found travel very difficult through the deep sand. Here the water conatins arsenic and will kill horses if they are allowed to drink while warm.
July 5
Noon. Have had very tedious drive over 19 miles of desert through fine sand. Suddenly drive into what is called Coyote Hole. Had dinner and rested. Had sociable chat with party of miners from Pasadena and some yound ladies from Los Angeles who were spending two weeks at their uncle's. One had a mandolin, and as we had an expert mandolinist in our party, we were pleasantly entertained for a time.
Seven miles from here we had supper at Indian Wells, a stage staion kept by men only, and as we had 21 miles of hot rocky desert before us, we started at dark and drove until 3 AM. When we arrived at Little Lake and camped for the remainder of the night without water for our horses, as we had been warned against using it. And the man living there refused us the privilege of water from a good spring, and wanted $90 per ton for hay.
July 6
We started on next morning after a little stir of excitement, as an animal was seen which was pronounced by the whole party to be a bear, and three of the boys made haste to give chase. But our anticipated game proved to be a lost and starved dog with worn out feet and weak from starvation which made him travel with a wably gait like a bear. But all thought they realized how one feels on seeing a wild bear.
Our route lay along the foothills of the Sierra Nevadas for miles with awe inspiring scenery on either side. The various formations caused by volcanic eruptions gave us an entertaining study as we journeyed on.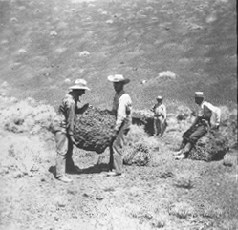 The dead sheep, cattle, and horses strewn along the road proved to us that it is not always pleasant to be here without water or a spear of grass for miles.
Camped for noon at a deserted place called Sheep Ranch, and at about 3 PM were at Haweah [Haiwee] Meadows. After a rest here we started on another hard drive of about 14 miles of deep sand and arrived at Alanche [Olancha] at 11 PM, where we were refused hay. Landlord claiming (after our dog had whipped two of his) that he had only a little for his own use.
Boys helped themselves to a bed tick full and we drove on. Drove until daylight and camped at Cottonwood Creek. Hay 50 cents a feed or $15 per ton. 1/2 mile from Owens Lake which is 30 miles long and 10 to 20 wide.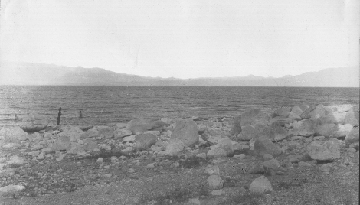 As we drove on in the afternoon and neared the shore of the lake, the boys rejoiced over the opportunity of taking a bath, but were disappointed. The water is as strong as ammonia and when they came out they lookes as if they had been white-washed. The shore was lined with flies two or three feel back from the edge of the water, and two or three inches deep. They were a little longer than the common house fly.
Soda works here ship 150 tons of soda to the refinery at San Francisco per month. The water is bottled, labeled, and sold as "Castillian Water", and recommended to cure all ailments of the human body.
At 10 PM arrived at Lone Pine and had wagon pole mended. Had dinner at John Dodge's, where we left our wagon and packed our horses. Got started by four o'clock. Man named Weeks helped us pack and gave us full directions of short cut to Mt. Whitney.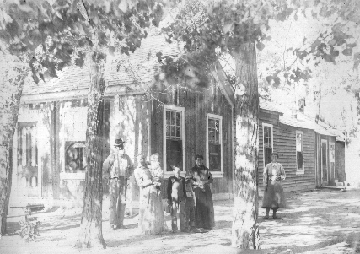 At 6 PM were at the top of a range of flint hills and were delayed half an hour finding gate in wire fence. Camped at a ranch here for the night. Were asked to pay 20 cents per head for pasture for horses. But we didn't.
---
[ Full diary, text only | Full diary with photos | ]
[ Pasadena to Lone Pine | Lone Pine to the peak | Mt. Whitney | Return to Pasadena ]
---
WWW page updated by William J. Watson, <williamjwatson AT yahoo DOT com>, January 25, 2002 (relocated page, updated email address).