TRIP TO MT. WHITNEY, part 2 - Lone Pine to the peak
July 8
Repacked and started at 8 AM, and at 9:30 we stopped at _______ Creek to drink and fill canteens. Ike layed down and couldn't get up. Had to cut halter.
Trail leads on in S.W. direction until we are nearly opposite Owens Lake. Trail is very steep and dusty.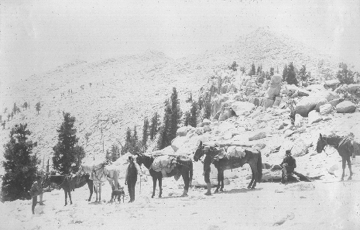 Ike gets caught in narrow trail and has to be repacked.
Two o'clock and we have had no dinner. Have found no water or pasture. But after travelling several miles through tall pine timber, we camp on Little Cottonwood Creek at 4 oc. But have to take horses one mile farther up the canyon to pasture.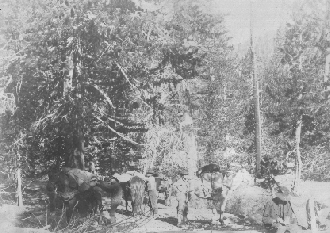 July 9
Frank, Archie, and I get up at daylight and go out in search of game. The mountains are very rough and of rocky formation, with hardly any soil except in the canyons.
The dog started something the night before which we thought was a mountain sheep, but we saw no further signs of game. Archie was so late coming to camp that we grew uneasy about him, and fired a signal gun after breakfast. But he finally came in safe enough, but with the news that the horses had all broken loose, and one wasn't to be found. Frank took the pony and a days rations, and recovered the lost horse in a couple of hours. And spoiled our relish for water by saying there was a dead horse in the creek just above camp.
July 11
The boys are packing for an early start, and Ikie is complaining of his load. 9 o'c. Round Valley is just below us and the large pine trees look like small bushes. We pass down by a zigzag trail to where flows Cottonwood Creek, a beautiful stream filled with trout; the Golden Trout only found in the vicinity of Mt. Whitney.
We follow up Cottonwood Creek for some miles, and at noon make camp at the foot of an abrupt wall of rock a hundred feet high, which appears to be the end of the canyon, over which tripples a small stream of water. Camp is made under some large pine trees surrounded by patches of sod, through which flows the creek filled with beautiful striped trout. In the distance patches of snow lay against the rocky sides of the highest peaks. Old Mt. Whitney, or Sheep Mountain, as it is now called, stands out boldly above us like a giant's helmet.
After dinner and a rest, we take 31 fine Golden trout. Archie scales the cliff and reports two beautiful lakes above, each 1/2 to 1 mile in length and 1/4 wide.
July 12
Today we had a drenching rain and hailstorm, and our little tent almost failed to keep out the rain.
Clarence and I had gone to the lakes above fishing, and had some sport at the expense of two ladies on a rock across the lake, one an artist. They did not realize the fact that common conversation can be heard for half a mile in this region; or else they didn't excpect an audience.
We all got a good soaking before we got to our camp. Then we, together with the two ladies, their two men and a boy, who of course had to be invited in, all piled into our little tent (8x10) on top of Archie, who was in bed sick, and there wasn't much room left.
After the shower was over we built a roaring fire and dried ourselves. And just at evening had some excitement when a Mountain Lyon appeared on the cliff above and all our guns were packed away.
July 13
Dry our bedding 'till noon, then pack to Long Valley, and camp for the night in the large pine forest just at the foot of the divide, over which is the Cut-off-route to Whitney Meadows.
July 14
Packed and start to climb the grade at 7:30 after a hearty breakfast of venison, biscuits (and what the boys call B.F.) and a few kodak views of the beautiful camp we were about to leave. On the start we follow up the stream through heavy grass and foliage, and the horses have to be watched closely that they don't get any of the "Wild Tobacco" which is plentiful here and is death to all stock. Clarence shoots a fine mountain grouse.
8:55 AM. Almost to timberline and have travelled without a trail for an hour. It could hardly be called a trail anyway, for it is only a dim path. Scott and I stay with the horses while the rest go in different directions to find the way.
We finally cross the range at the summit of Cirque Peak, having climbed about 700 ft. higher than necessary if we hadn't missed the divide. Travelled down a narrow cañon with almost no trail at all until 1 o'c when we reached Whitney Meadow.
Camp for the night in the most beautiful spot of all, just where the forest and the grassy meadow meet. And about 30 ft. from the edge of the pines where we are camped flows a spring of 20 inches of ice cold water. (Which was nice to clean 70 or 80 trout in before daylight.)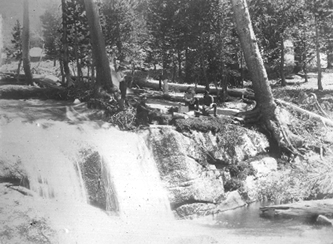 July 15
At 9:15 AM we rest at [Siberian?] Pass at the head of a long sloping sand flat. An hour later there is much excitement over a bear, which proves to be a large dog. After sliding and falling for two miles down what is used for a trail, we camp at noon by the side of a fall in Rock Creek. Which is quite a large stream, but contains no fish on account of its two thousand foot fall into the Kern River below. The beauty of this cañon is beyond description.
After dinner and a few kodak views, we proceed to climb again the two thousand feet we have just descended. We cross Goyot's Pass, which is 11,600 ft. and above timberline. To the left we have Guyot's Peak, 900 ft. higher without a bush on its rocky sides.
At 6:00 PM we are camped on Crabtree Meadows, which is covered with herds of sheep, and the grass for our horses is about 1/2 inch high.
---
[ Full diary, text only | Full diary with photos | ]
[ Pasadena to Lone Pine | Lone Pine to the peak | Mt. Whitney | Return to Pasadena ]
---
WWW page updated by William J. Watson, <williamjwatson AT yahoo DOT com>, January 25, 2002 (relocated page, updated email address).