TRIP TO MT. WHITNEY, part 4 - Return to Pasadena
July 18
Slept late. Packed up at 3:00 PM and made Rock Creek falls again by night.
July 19
Packed to our favorite camp on Whitney Meadow. In the afternoon Clarence, Scott, and Archie had a fishing match, and in three hours they caught as follows: Clarence - 36, Archie - 35, Scott - 8, making 79 fish to clean, and the water was icy. All were the beautiful red, white and gold striped Golden Trout.
July 20
Drew lots to see who should go to Lone Pine for provisions for a weeks trip to Kern River. But finally gave up the idea on account of bad condition of the horses, and all started for Lone Pine. Found old camp fire still burning in Long Valley but had done no damage.
Camped on Big Cottonwood and caught 67 trout before supper.
July 21
Left camp early and reached Lone Pine by night.
July 22
Left Lone Pine with three bales of hay at $1.00 each, and 100 lb. corn at $2.00. Clarence bought some Indian baskets.
Reach Owens Lake and boys fill two jugs with water from the lake.
Teddy is played out so we put pony in his place. Five miles farther and Speedy is played out. Put Teddy in her place and go on. Conclude that the horses are unable to go any farther and with a good prospect of being left with our load on the desert, we drove to the mouth of Cottonwood Creek to camp for a few days to rest the team.
Camped in the bottom of the canyon and had our wagon and beds on the bluff. (Upstairs)
July 23
Have wash day and catch a few nice trout. Larger, but not so plentiful as above.
Boys make a trip after dark to a ranch five miles away for hay. As there was none cut, they had to cut some green alfalfa with their pocket knives, and didn't get back to camp till one o'clock. Scott rode in on a bed tick full, packed on top of Ikie.
July 24
Make 8 mile drive in the afternoon and camp near Olanche [Olancha]. Get some good hay from a neighboring farmer. Two bed ticks full. Hay was cut, but had to be pulled from stack with a hay hook.
July 25
Noon finds us at Haweah [Haiwee] Meadows, and after a two hourse drive, camp for the night at Sheep Ranch, amid the dead sheep and cattle.
July 26
Drive to Little Lake. Stop on the way and visit extinct volcano which lies 1 1/2 miles off the road. At night the grouchy man at Little Lake is, by a well planned maneuver, induced to part with some of his hay and grain.
Start at 12 o'clock that night and reach Indian Wells by noon, July 27. Speedy plays out and is left at Coyote Hole.
July 28
Red Rock Canyon. Clarence and Frank visit Scenery Canyon and the mines.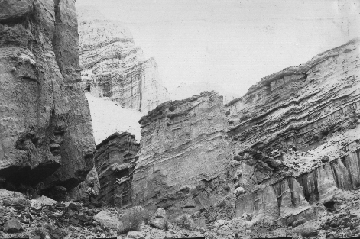 July 29
Killed Ikie and arrived at Mojave at 6 o'clock. Had to pile rocks on our beds to keep them from blowing away. And we lost one pillow.
July 30
Drove to Oak Creek Cañon (18 miles) and camped just inside Old Piff's domain.
July 31
Encountered Old Piff and moved a couple of miles up the cañon. That evening we met two boys who invited us to move down and camp on the ranch, the corner of which just crossed the cañon.
Aug. 1 to 7
Camp in Oak Creek Cañon. Frank and Scott killed four deer. I saw one but had only a shot gun, and didn't shoot.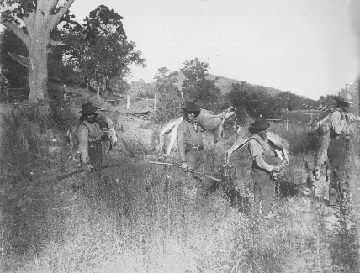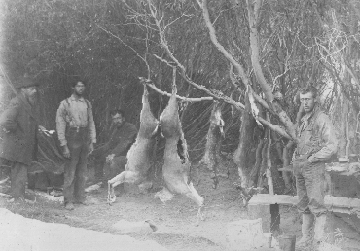 Old Piff was very generous with his hay for the first few days, but soon began to haul it away.
Aug. 8
Packed up at noon and drove to Willow Springs. Made pictures of old adobe ruins, artesian wells and old grave.
Aug. 9
Dinner at Elizabeth Lake. Got eggs and hay, and camped in San Fransisquito Cañon. Archie killed two big rattlesnakes and skinned them.
Aug. 10
Stop at San Fernando for beer, and at Monte Vista for a shave. Arrived home at 8:30.
---
[ Full diary, text only | Full diary with photos | ]
[ Pasadena to Lone Pine | Lone Pine to the peak | Mt. Whitney | Return to Pasadena ]
---
WWW page updated by William J. Watson, <williamjwatson AT yahoo DOT com>, January 25, 2002 (relocated page, updated email address).